How to Get an Accident Report in Tennessee
June 8th, 2021 by Attorney John Colvin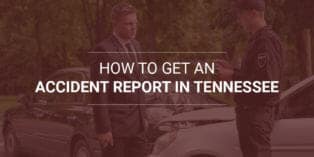 If you are involved in a car accident, you might not think to call the police to the scene. While it may not always be necessary to call law enforcement, having an official government report to document the collision can be incredibly helpful in pursuing a claim against the at-fault driver's insurance company.
Once the police arrive at the scene, they will gather vital information about the crash. This may include interviewing witnesses, taking a statement from the other driver, and even noting weather conditions and the type of damage that your vehicle sustained. Once this accident report is completed, you can request a copy from the appropriate law enforcement agency. In Tennessee, you will typically get this report from the Tennessee Highway Patrol (THP), a county sheriff's office or city police department.
Your TN car accident lawyer will then use this report as the basis of a claim against the other driver. Through a personal injury lawsuit, you can seek financial compensation for your full range of losses, including property damage, medical bills, future medical treatment, lost wages, emotional distress, pain and suffering, and more. If  you have been hurt in any type of accident, a Tennessee personal injury attorney can advise you of your rights and options for filing a claim.
Getting an Accident Report in TN
Under Tennessee law, you are required to report certain motor vehicle collisions to the Tennessee Department of Safety (DOS). Specifically, you must file a written report within 20 days if the accident involved:
Death or injury to any person; and/or

Property damage in excess of $1,500 (for accidents prior to January 1, 2019, you must file a report for property damage in excess of $400)
If you fail to file a report as required under Tennessee law, then you may face penalties, including a suspension of your driver's license and vehicle registration.
The requirement to report traffic accidents to the DOS is separate from calling the police to the scene.  Law enforcement may arrive because you called 911, or someone else (a witness or another person involved in the crash) did so. In this situation, the police will prepare a written report of the accident.
Unlike the report that you file with the DOS, this report may become a crucial piece of evidence if you pursue a claim for your damages. If you were involved in the accident in some way – whether as a driver or passenger – then you can request a copy of the accident report from the appropriate government agency.
If the Tennessee Highway Patrol (THP) took the accident report, then you can request a copy of the report from the DOS.  You can get a THP report in one of three ways:
Online

: for a fee of $10.00, you can obtain a copy of the report through the DOS website. To do so, you will need a credit card and information about the accident, including: date of accident, your last name, the reporting agency, and your driver's license number, plus either the VIN, license plate, or case or tracking number.

In person: for a fee of $4.00, you can get a copy of the accident report from a THP district office. These reports are available approximately 7 days after the crash, and can be obtained by any driver, owner or passenger, or their agent or legal representative. You will need the date of the crash, the county where the crash occurred, the names of the drivers involved, and the agency tracking number to get a report.


By mail: for a fee of $4.00, you can request a copy of the accident report by sending a cashier's check, money order, or personal or business check to the DOS. Be sure to include the pertinent information about the crash along with your mailing address. The request can be sent to:
Tennessee Department of Safety and Homeland Security
Financial Responsibility Division
PO Box 945
Nashville, TN 37202-0945
If a local law enforcement agency responded to your accident, then you will need to get the report directly from that agency. Many police departments offer information about how to obtain an accident report directly on their website.
For example, if the Nashville Police Department (NPD) showed up at the scene, then you can request the report online, via email, through the mail, or at the NPD Central Records Division. The fee for an accident report through the NPD is based on the number of pages and whether the copies are made in color or in black and white (0.15 per page for black and white, .50 per page for color). There is no fee for an online report.
Each local police department and county sheriff's department is unique, and may have their own policies and procedures for requesting an accident report. If you are unsure of how to obtain an accident report, talk to your Tennessee car accident lawyer. In many cases, their law office will be able to request a copy of the report on your behalf.
How an Accident Report Can Help Your Injury Claim
When building a personal injury claim, your attorney will gather evidence from a variety of sources. One of the most valuable pieces of evidence in this type of claim is often an official accident report.
Police officers receive special training to learn how to analyze automobile accidents. They also tend to have significant experience with different types of crashes. As a result, their accident reports are often critical to a personal injury case. They may even allow your attorney and their investigators to locate other important evidence.
An accident report from THP or a local law enforcement agency may contain facts such as:
The date, time, and location of the accident

A narrative or description of the event

A diagram of the accident scene and point of impact of the vehicles

The weather conditions at the time of the crash

Road conditions at the location of the accident

Whether any drivers were issued a ticket or citation

Names and contact information for the drivers, passengers, and any witnesses

Statements made by the drivers and witnesses

Description of injuries suffered by you and other drivers and/or passengers

Observations of vehicle damage

Pictures and/or video of the accident scene, injuries and property damage
Because police officers are considered neutral parties – that is, they aren't on one side or the other – these reports can carry a lot more weight than your own description of what happened. If the accident report supports your version of the crash, then insurance adjusters may be more likely to offer a fair settlement than they would be without the report. This puts your lawyer in a better position to negotiate the maximum possible compensation for your injuries.
Your attorney can also use the accident report to track down other evidence to support your claim. For example, the report may contain a list of witnesses. Your legal team can contact these witnesses and interview them about their memory, which can bolster your case.
The accident report can also be used by an accident reconstruction expert to demonstrate what happened leading up to the collision. Each of these elements can work together to form a strong claim for damages. Finally, if your case goes to trial, then the police officer who made the report may testify, using the accident report to refresh their recollection of what occurred.
Hurt in an Accident? We Can Help
If you have been hurt in a crash, calling law enforcement to the scene to take an accident report may not seem necessary – but it can be incredibly important for any legal claim that follows. With an official report of how the accident happened, your attorney can put together a demand for compensation from the insurance company – and use it to file a lawsuit, if necessary.
The law firm of John R. Colvin, Attorney at Law, represents injury victims throughout Tennessee who have been hurt in all types of accidents. We aggressively advocate for the rights of injury victims throughout the Tennessee Valley. Based in Winchester, we offer free initial consultations for all prospective clients, and never charge a fee unless we recover money for you. To learn more or to schedule an appointment with a Tennessee car accident lawyer, call us at 877-594-8956 or fill out our online contact form.
Disclaimer*
The information on this website is for general information purposes only. Nothing on this site should be taken as legal advise for any individual case or situation. This information is not intended to create, and receipt or viewing does not constitute, an attorney-client relationship. No representation is made that the quality of the legal services to be performed is greater than the quality of legal services performed by other lawyers.